Procedure detail
These are the amended details of this case as original details/graft numbers were incorrect:
This patient came to us in 2007 and had a relatively small procedure of 1367 grafts to the front by FUT as he wanted to improve things but did not want a dramatic change. He was on Finasteride and felt that the front was fairly stable but was not sure about the crown. Ten years later we can see how things had improved both with the surgery and the meds. 
Last year he revisited us and wanted to improve things further. We were happy to do this as he is now in his fifties with stable loss, and he had a further small procedure of 1096 grafts. The second set were taken 8 months after procedure no.2.
Bald class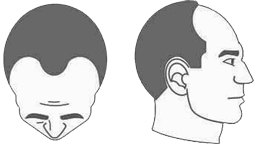 Norwood class 3
The earliest stage of male hair loss. It is characterized by a deepening temporal recession.