Finding excellent in-depth information about hair restoration, beyond infomercials and brochures, can be difficult. We recommend the below books for those interested in-depth and reliable hair restoration information.
MODERN HAIR RESTORATION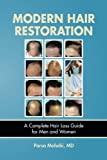 Hair Restoration has made great progress over the last several years with new techniques that have helped improve the quality and efficiency of hair transplants. Dr. Parsa Mohebi, one of the premier hair restoration surgeons, describes these groundbreaking methods, which include new, surgical techniques, hair loss medications, and non-invasive treatments in his book.
Hair loss can have a devastating effect on our self-image and can impact our personal and professional lives in innumerable ways. Dr. Mohebi assures those who are suffering with this condition that there are many medical and surgical treatments available today to help treat patients with different types of hair loss, including specific treatments for male and female patterned baldness. Dr. Mohebi gives his readers tips that can help them evaluate their current hair loss situation in order to find the best treatment available.
Modern Hair Restoration is a one of a kind A-Z guide for most types of hair loss sufferers. It is based on the latest advancements in treating male and female patterned baldness and the newest techniques of hair restoration. The medical breakthroughs described in this book have successfully treated thousands of patients and should continue to help the lives of many more hair loss sufferers for years to come.
Buy MODERN HAIR RESTORATION - A Complete Hair Loss Guide For Men And Women
The Hair Replacement Revolution

"The Hair Replacement Revolution" offers hair loss suffers atruly expert and comprehensive guide to all legitimate hair loss treatments.
This guidebook is written by two credible and respected physicians, Dr.Emmanuel Marrit and Dr. JamesHarris. It alsooffers suggestions for excellent hair restoration surgeons, which are NOTdetermined by financial contributions. This book can be purchased at Amazonfor $12.00 and is truly a "Must Read"!
Read exerpts from this great book.
Hair Restoration Surgery in Asians

Hair Restoration is in demand worldwide, but because Asian hair tends to be more sparse and coarse than Caucasian hair, transplantation procedures need to be adapted to Asian patients. This book, exclusively devoted to Asian hair, is a complete and comprehensive text written by a group of authors sharing their experience in their specialized fields of hair restoration. Included are many practical tips as well as chapters on regional transplantation such as eyebrows, eyelashes, sideburns, beards, and mustaches, in addition to the usual scalp hair restoration.
With its many illustrations, the book gives readers a complete knowledge of hair restoration surgery and provides a quick, easy-to-use reference on Asian hair and the differences in patients' demands. With an influx of new physicians in this challenging field of medicine, further education and training are imperative and must be available to provide a high standard of medical practice. This compilation meets that objective and ultimately makes the valuable contribution of restoring patients' self-confidence.
Buy Hair Restoration Surgery in Asians
To Bald or Not to Bald

Although it is usually an unwanted sign of ageing, hair loss may no longer be inevitable. Hopefully, by the time you finish this book you will understand the proven, effective treatment options that have become so popular. In subsequent chapters you will realize that hair loss is a problem that can be solved with new and exciting methods that will be explained in detail as we move along. We live in a new era of medical innovation and possibilities. Advances in medical research, technology and surgical techniques have restored patient's faith in the field of medical and surgical hair restoration. This books explains the entire process of hair restoration today.
Buy To Bald or Not to Bald
on Amazon.
Hair Loss and Replacement For Dummies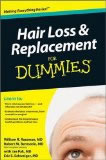 What are the causes of hair loss? Can you prevent it? Can lost hair be restored? Hair Loss & Replacement For Dummies helps you understand why men and women lose their hair and offers thorough, objective reviews of a wide array of hair replacement options, including hair replacement surgery, prescription and over-the-counter medicinal treatments, hairpieces, natural remedies, and a variety of other options.
This authoritative, user-friendly guide explains the pros and cons of hairpieces, fibers, foundations, and hair thickening techniques. You'll learn about pharmaceutical, laser, and topical treatments, and you'll find out how to determine whether you're good candidate for hair restoration surgery. You'll even find help in assessing costs, controlling expectations, avoiding hair replacement scams, and determining which option truly is best for you. You'll discover:
What you need to know about hair and hair loss
How to take better care of your hair
Ways to prevent or reduce hair loss
Creative techniques for concealing hair loss
Shopping tips for hair-replacement systems
How finesteride, minoxidil, and other medications might help
Advice about low level laser treatments
The low-down on hair restoration surgery
Complete with helpful myth-busting information about the causes of hair loss and the benefits of FDA-approved treatments, and helpful comparisons of the advantages of non-surgical and surgical hair replacement, Hair Loss & Replacement For Dummies is the resource to consult before you decide on any hair replacement treatment.
Buy Hair Loss and Replacement For Dummies on Amazon