The Coalition of Independent Hair Restoration Physicians
This elite group of independent surgeons have been carefully selected by patients and leading physicians. They are committed to providing large sessions of Ultra Refined Follicular Unit Hair Transplantation. with documented results.
Coalition members agree to have their patient results openly critiqued and reviewed on the world's most respected online patient based forum community - the Hair Restoration Network. Coalition members must maintain excellent patient reviews for continued membership.
Learn more about the high standards Coalition physicians must meet for membership.
Consult with a Coalition physician to create a hair restoration plan for you.
Meet our 27 Coalition Physician

Dr. Nusbaum

Dr. Bernstein

Dr. Feriduni

Dr. Wong

Dr. Panine

Dr. Arocha

Dr. Bansal

Dr. Wesley

Dr. Charles

Dr. Pathomvanich
Dr. Rahal

Dr. Haber

Dr. Shapiro

Dr. True

Dr. Gabel

Dr. Carman

Dr. Dorin

Dr. Konior

Dr. Nakatsui

Dr. Hasson
Dr. Cooley

Dr. Farjo

Dr. Barghouthi

Dr. Josephitis

Dr. Devroye

Dr. Bisanga

Dr. Mwamba
Image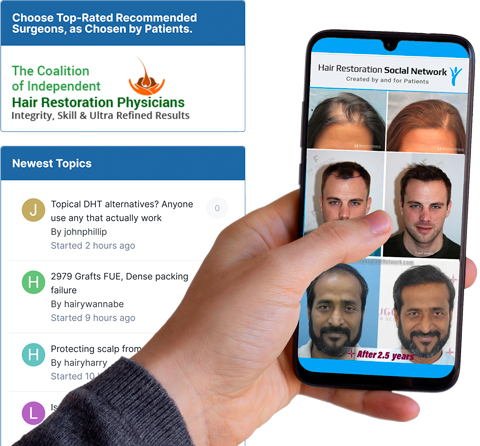 Keeping it Real!
All our member physicians and treatments are reviewed openly on the world's most popular Hair Restoration Forum.
Transparency and accountability build trust
To learn about credible hair loss treatments and those providing them, explore this site and share info with others on our hair loss forum and view hundreds of patient created websites documenting their hair restoration. We encourage you to research all treatments and physicians by reading uncensored patient reviews.
Join Our Free Forum Today
Find a Hair Restoration Treatment and Physician
Reviewed by Hundreds of Patients!
This Learning Center offers in-depth reviews of hair loss treatments and the leading physicians who provide them. Today, there are treatments that can stop or even reverse hair loss. Hair transplant surgery, when done right, can now produce results so natural that even hair stylists cannot spot them.
 But it is critical to choose the right hair loss treatment and hair restoration physician, since the skill, talent, and experience of physicians vary widely, as do their results.