Hair loss suffers often don't want to admit that going bald bothers them. But there's nothing wrong or vain about being concerned with hair loss.No matter what people say, having hair or not does matter. We are judged by our appearance. And hair loss, also known as alopecia, is generally seen as a sign of weakness and aging.
Does hair loss matter? You be the judge...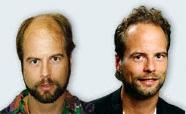 "At first I just didn't feel comfortable admitting that I wanted my hair back."– Dean, restored his hair with Propecia and hair restoration surgery.
Hair loss Statistics – Hair loss affects about 35 million men and 21 million women in the United States alone.40% of men have noticeable hair loss by age 35 and 65% by age 60.
So how can you remedy hair loss and its effects?
First you need to understand why hair loss occurs. In Cause of Thinning Hair and Baldness you'll learn that your hair loss has little or nothing to do with shampooing, hats, or any other practices. Alopecia is largely genetic.
It's also important to deal with the psychological and emotional effects of hair loss. In the Psychology of hair loss these personal issues and how society views hair loss are uncovered.
Regardless of our differences, hair loss can affect anyone. However,there are a variety of gender and racial differences to consider.Age is also a prime factor. In Race, Age and Hair Loss these differences are explored.
Hair loss is not a new phenomenon, as our Ancient Hair Loss "Cures" section reveals. Whether it's Julius Caesar using wreaths to hide his thinning, or French King Louis XIV's elaborate 15-20 pound wigs -- history's filled with interesting tales of balding cover-ups. This section also explores the reality behind many Hair Loss Myths and "cures", from electro-shock treatments to headstands.