Procedure detail
This patient is in his mid 30's with relatively stable loss.
He has been using Propecia for a year and his initial concern was with the front and top. He does plan to look at the crown at some stage in the future.
The patient sent us the post operative pics which were taken at just over 6 months.
 He received 2589 follicular units with an average of 2.4 hairs per graft.
Bald class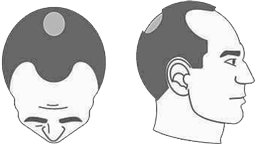 Norwood stage 3 Vertex
In terms of the receding hairline, stage 3 vertex balding is a less drastic version of stage 3.
However, people experiencing stage 3 vertex balding will also begin losing hair on the crown of their head. This often starts as one small bald spot.