Procedure detail
Another dazzling FUE case. This 39-year-old Norwood 2 patient came in to restore his hairline and receded temples.
Dr Rahal designed a hairline without dropping the front, but added density and adjusted the lateral temple angles. The resulting hairline allows for so many more styling options.
 Only 2024 grafts were used and the patient has ample donor left for future needs.
 Surgery Type: FUE
 Recipient Area Treated - 41cm
Total Grafts - 2024
Total Hairs - 4258
Recipient Graft Density - 49.36 grafts/cm
Recipient Hair Density - 104 hairs/cm
 Graft Breakdown:
Single Hairs - 400 grafts
Two Hairs - 1029 grafts
Three Hairs - 580 grafts
Four Hairs - 15 grafts
Average Hairs Per Graft - 2.09
Bald class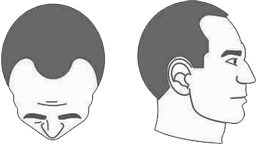 Norwood stage 2
There is a slight recession of the hairline around the temples. This is also known as an adult or mature hairline.