Procedure detail
Rahal FUT NW 3
33 year old patient came in to restore hairline and mid front of hairline. Dr Rahal, designed a hairline to fill in the recession and to add density to mid front. The treatment area was 42m. The transplanted density done at 59grafts/cm or at 123 hairs/cm.
He now has more styling options with the new transplanted hair.
Bald class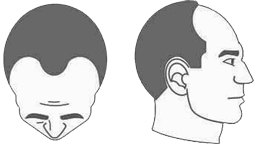 Norwood class 3
The earliest stage of male hair loss. It is characterized by a deepening temporal recession.