Procedure detail
Patient from Vancouver now in his early forties originally came to see Dr. Wong @hassonandwong in his mid-30's mostly concerned about his hairline and thinning in the crown. In his first procedure, Dr. Wong addressed the hairline, frontal zone and parts of the mid-scalp while also increasing the density in the crown. Dr. Wong and team initially placed 3812 grafts of which 1081 were single hair grafts, 2561 were doubles, and 170 were 3-4 hair grafts.
The transformation served him well and he was very happy with the result for a number of years. Around 6.5 years after his initial procedure he decided he wanted to slightly lower his hairline and further discuss any other possible areas to improve. He and Dr. Wong then decided to also add a little more definition to the temples and increase the density of the crown. 1507 grafts were then employed to these areas of which 486 were singles, 808 doubles and 213 were 3-4 hair grafts. These photos were taken only 6-month post-op from his second procedure with more improvement to come.
#hairtransplant
#hairrestoration
#hairtransplantsurgeon
#hassonandwong
#hairtransplantreviews
#hairrestorationsurgeon
#hairtransplantation
#hairtransplantnetwork
#thehairtransplantnetwork
Bald class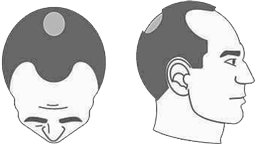 Norwood stage 3 Vertex
In terms of the receding hairline, stage 3 vertex balding is a less drastic version of stage 3.
However, people experiencing stage 3 vertex balding will also begin losing hair on the crown of their head. This often starts as one small bald spot.