Procedure detail
This 39 year old patient presented with a history of two prior unsuccessful hair transplants in which a total of 3086 grafts had been placed in an attempt to restore his frontal male pattern baldness.  He expressed concern that the procedures failed to produce any substantial regrowth or density gain.  He was also bothered by a very wide scar that resulted from his second strip harvest procedure.
The prior transplant zones demonstrated quite low density in consideration of the prior 3086 grafts that had been performed.  His donor area revealed a very wide scar extending from the occipital region to the right temple donor region.  Overall his donor area was deemed compromised because of the past harvests and the resulting wide scar.  The surgical plan devised included another strip harvest in the remaining higher density, core donor region, and a secondary FUE harvest for recruiting grafts from the nape region.  This combination approach was used to maximize the graft harvest while minimizing further cosmetic handicap in the donor region.  The strip harvest yielded 2829 grafts and the FUE harvest yielded 541 grafts, resulting in a total of 3370 grafts for the restoration.  Strip grafts were primarily distributed in the frontal and midscalp regions, while the finer nape hairs were used to create a transitional thinning appearance from the midscalp into the crown.  Presented here are nine month postoperative results.  Also presented are various photos of immediate graft placement and the harvest zone.
Bald class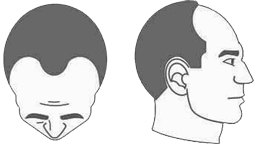 Norwood class 3
The earliest stage of male hair loss. It is characterized by a deepening temporal recession.