Procedure detail
Dr. True performed an FUT on this patient in his mid 20's to
restore permanent density to the front/bridge region. Around the same time,
Propecia was initiated for stabilization of the top/crown. Patient is ahead of
schedule in terms of hair transplant growth and seeing a positive response to
finasteride.
733 singles
875
doubles
96 threes
A total of
2771 hairs transplanted.
Bald class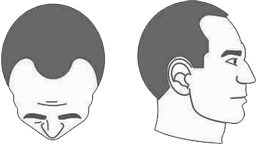 Norwood stage 2
There is a slight recession of the hairline around the temples. This is also known as an adult or mature hairline.