Procedure detail
This patient is a 57-year-old gentleman who desired to enhance his frontal hairline. He feels that he has had a slow recession of hair in the frontal region. He did not want to bring the hairline down significantly and wanted to increase the density to make his hairline fuller.
The before and after photographs are presented side by side to compare the 18-month results. The patient is extremely happy with the results as it has defined the frontal hairline and produced a more youthful appearance for him.
Bald class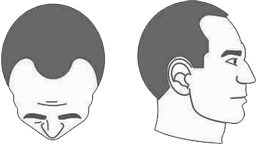 Norwood stage 2
There is a slight recession of the hairline around the temples. This is also known as an adult or mature hairline.