Procedure detail
This 64-year old male had several hair transplants many years ago. His main concern was to add density in several specific areas of his scalp to increase the thickness and density. His donor area had several prior strip scars with significant scar tissue only allowing for a small amount of donor hair to be removed. On examination, he demonstrated diffuse pattern baldness with evidence of prior hair transplants, and significant scar tissue the fibrosis of the scalp.
I had a lengthy discussion with the patient and explained the limitations we had with the amount of donor hair I could obtain, and the diffuse nature of his balding. We discussed the fact that he would not have a dramatic improvement but a mild improvement since he wanted the grafts spread out throughout the frontal and mid-scalp zones. However, we planned to concentrate the grafts into specific areas that bothered him the most to make the best use of the hair we could obtain.
The patient had a strip procedure and we were able to obtain 1014 follicular unit grafts which were strategically placed in the most bothersome areas for this patient.  The postoperative photos taken 1 year later show a mild increase in density and fullness to the hairline and central scalp and improvement in the crown. The patient is pleased with his results so far and looks forward to seeing how his final results will look.
This case is important to demonstrate that not all cases are straightforward, and many patients do not have a significant amount of donor hair to work with. In this patient's case, we were only able to harvest 1014 grafts, but we placed them in specific areas to satisfy the patient in the most troublesome areas. He is delighted with the results as it met and exceeded his expectations that he was looking for. If he desires more hair in the future, I will consider FUE.
Bald class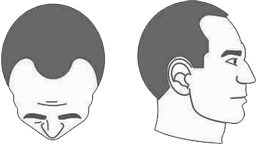 Norwood stage 2
There is a slight recession of the hairline around the temples. This is also known as an adult or mature hairline.