Procedure detail
Hi, all.  I haven't posted here much since my last procedure in 2015, but happy to share an update with everyone about my latest surgery.  As background, I had my first transplant with Dr. Robert Niedbalski in June 2012.  I was a NW 2-3, and he transplanted 1,450 grafts via strip to form a lower, but still recessed, hairline.  I wanted a flat hairline, so I had a subsequent procedure with Dr. Rahal in October 2015, when he transplanted 2,200 grafts, again via strip.  The hairline design was great, but the right side grew in a little sparse.  Nothing awful, and I could've gone without addressing it, but I wanted to go back to the well for a fuller hairline.  I just turned 36, BTW.  I've been on Avodart and Propecia for six years and essentially no longer lose hair--my loss is fully halted. I use Rogaine but discontinued before surgery per instructions.
Links to thread about my earlier procedures are here: 
https://www.hairtransplantnetwork.com/blog/home-page.asp?WebID=2858
, last week I drove from Seattle down to Portland for a third procedure--this time with Steve Gable.  I've known Dr. Gabel for about five years and have really looked forward to working with him.  He's a precise, thoughtful guy, and I knew he'd be a great choice to refine my results.
I left Seattle at 3am to check in at Dr. G's clinic at 6:30.  His clinic just moved to a brand-new facility, and it's gorgeous--two ORs, a lovely lobby, and overall just a great, clean, attractive space. 
Bald class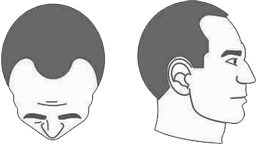 Norwood stage 2
There is a slight recession of the hairline around the temples. This is also known as an adult or mature hairline.