Procedure detail
This patient is a 28-year-old male with mild to moderate hair loss in the frontal region and hairline. He desired to fill in those zone via a hair transplant. After a detailed consultation, it was determined that he would be a good candidate for follicular unit excision (FUE) harvest techniques secondary to his short hair he likes to have in the donor area.
 The patient underwent a hair transplant via FUE and had 2192 grafts placed into the frontal zone of the scalp in one procedure. Postoperatively, the patient has done very well. He is very happy and excited with his 1-year results as shown in the photos below.
Bald class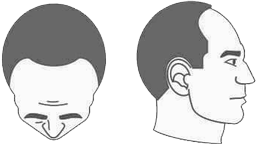 Norwood class 2A.
The class A variation of the Norwood scale is a slightly different and less common progression of hair loss. The main differences are that the hairline recedes back uniformly, without leaving an island of hair in the middle, and there is no bald area at the vertex. Instead, the hairline progresses directly from front to back.