Procedure detail
This 33-year-old male desired to redefine his frontal hairline, and increase density in the frontal and midscalp zones.
 He had 2939 follicular unit grafts transplanted via the strip harvest method. The photos show his results almost at 2 years after surgery. The patient is very happy with the results. Clearly, the results are enhanced as his hair is grown out some more, and the color contrast between his hair and skin - all favorable to him for a better result.
Bald class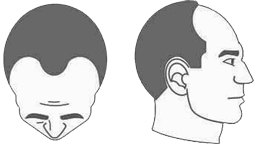 Norwood class 3
The earliest stage of male hair loss. It is characterized by a deepening temporal recession.