Procedure detail
This gentleman was in his mid-50's and had a hair loss pattern similar to a class 5v on the Hamilton Norwood hair loss scale.  His goal was to get as much coverage as possible. With his degree of hair loss, I let him know it would take 2 procedures.
Taking his age and degree of hair loss into consideration, we discussed his options and developed a surgical plan that would work well with his expectations. I paid careful attention to his hairline as I wanted to reconstruct a hairline that would be suitable for him as he continued to age and allow me to still give him some coverage in the crown. I used a significant amount of single hair follicular units which allowed me to create a very natural hairline. This action will allow him to comb his hair without anyone detecting that he has had anything done.
The patient has had 2 FUE procedures and for a total of 5,076 grafts. These are his results, 10 months, post-op after second procedure. He is very happy with his results.
Bald class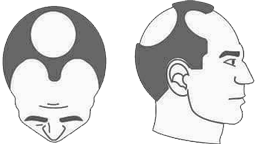 Norwood stage 5V
The two areas of hair loss are larger than in stage 4. They are still separated, but the band of hair between them is narrower and sparser. There is significant hair loss on the top of the scalp (the vertex).