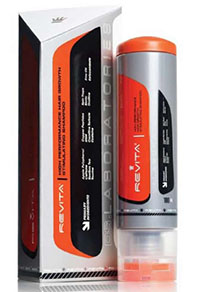 The new and revolutionary Revita Shampoo has all the right stuff to stop DHT and promote healthy hair growth. Revita contains the proven DHT inhibitor ketoconazoleand vitamins and minerals essential for nourishing and cleansing the scalp and hair, including the same copper peptide technology included in Tricominproducts.
This product includes a 6 ounces or 180ML bottle with 1% of the active ingredient ketoconazole. To view the clinical abstract proving the effectiveness of ketoconazole in the treatment of androgenetic alopecia, view Ketoconazole as a hair loss treatment.
Unlike Nizoral, the revolutionary Revita shampoo can and should be used daily. Revita leaves your scalp and hair feeling great daily with no signs of dryness or flakiness. It's also a magnificent volumizing shampoo, promoting maximum fullness.
Developing Realistic Expectations:
Men and women sometimes suffer from hair loss for different reasons. Thus, diagnosing its cause is necessary to facilitate and promote proper treatment.
Don't expect immediate results. It's recommended to use Revita in conjunction with proven treatments for at least 6 to 12 months before determining its effectiveness. Documenting your progress with bi-monthly photos can help you determine whether or not Revita has been successful in helping you maintain existing hair.
Hair shedding is a common symptom the first few months and a sign that Revita may be working for you. It's crucial to push past this stage with continued use for the recommended period of time.
To date, only surgical hair restoration is proven to grow hair in completely bald areas. You are invited to have a free virtual consultation with one of our prescreened hair restoration physicians.
Ingredients (Full List)
Apple PolyphenolProcyanidin B2 & C1
Copper Peptides
Spin Traps
Ketoconazole
Rooibos
MSM
Caffeine 4%
Carnitine Tartrate
Amino Acids
Emu Oil
Biotin