Procedure detail
Vancouver-area patient in his late 20's. Dr. Hasson and team transplanted 5886 grafts front to back via FUT. 2171 were single hair grafts, 3584 were doubles, and 131 were 3-4's. With some hair styling product in his hair, these photos were taken approximately 11 months post-op.
*At the time of his procedure we were experiencing with a white background, we have since gone back to blue. Apologies for the difference.
Bald class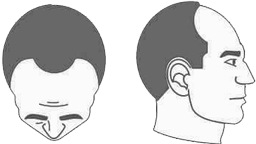 Norwood class 3A
The Norwood Class A patterns are characterized by a predominantly front to back progression of hair loss. These patterns lack the connecting bridge across the top of the scalp and generally have more limited hair loss in the crown, even when advanced.