The most important decision in restoring your hair is the physician you choose. The skill, talent, and experience of hair restoration physicians vary widely, as do the end results. Who you choose will determine how natural and full your new hair will be for the rest of your life.
Since performing follicular unit hair transplantation is very demanding upon a clinic's physician and staff only a minority of hair restoration clinics perform it successfully. Unfortunately, many clinics are still unwilling or unable to dedicate the time and resources required to master and perform this procedure successfully.
Therefore, those seeking only the most natural results need to be very selective. Keep in mind that in the United States any licensed physician can perform hair restoration surgery without any special certification or training. If you do not find an excellent hair restoration surgeon in your local area seriously consider traveling out of state to get your hair restored properly. After all, the results will last a lifetime.
Evaluating a potential hair restoration physician and clinic
How many years has the physician been dedicated to doing hair restoration?

How many hair restoration procedures does the surgeon perform in one day? Ideally the physician will be dedicated to working on you all day if you are doing a large mega session procedure.

Does the physician perform hair restoration surgery full time or predominantly? If not, the clinic may not have a staff that is experienced enough to successfully perform large sessions of all microscopically prepared Follicular Unit (FU) grafts.

What is the hair restoration surgeon's reputation among his or her peers?

Does the physician take a holistic approach to hair loss treatment and also offer advice or Rogaine?

What procedure does the clinic perform? Is it truly state of the art?

Does the physician use microscopes for the dissection of the donor tissue into 1, 2, 3, and 4 hair Follicular Unit (FU) grafts?

Large sessions of all microscopically prepared grafts are a team effort. But how "hands on" will your hair restoration surgeon be? Will he or she be making all the incisions in the graft recipient area, thus determining the design and hair direction of your transplanted hair? How involved will your surgeon be in the placing of the actual grafts?

Trust but Verify – Review Patient Results

Can the surgeon provide a list of names and phone numbers of patients willing to discuss their personal experiences? Patient testimonials will say a lot.

Can the surgeon provide at least one dozen sets of clinical "before" and "after" case photos for your review? Be sure the photos offer good clarity and detail and include "before" views as well as "after" views that allow for critical evaluation.

Verify claims by visiting online discussion forums and searching for previous posts regarding a hair transplant physician you are considering.
Consider our Quality Physicians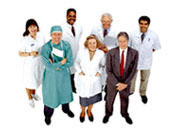 Our member physicians are carefully reviewed and granted membership in the Coalition based on their high level of ethics, skill, and the quality of their patient results.
Learn more about our network of quality prescreened physicians.